Are you missing teeth?
Are your dentures unstable and do they move around?
Would you like to be able to chew your food better?
Would you like to replace your removable partial?
Dental Implants May Be Your Solution!!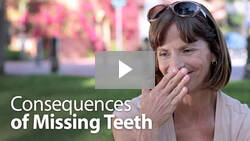 What Are Dental Implants?

Dental implants are the new standard of care for tooth replacement. They bond with healthy bone and provide permanent support for dental crowns and dentures. Dental implants look and feel like natural teeth and can last a lifetime.
The Benefits of Dental Implants
Dental implants are the next best thing to having your own teeth. They look and feel natural and allow you to have the beautiful smile you deserve. If you've experienced tooth loss as a result of an accident, tooth decay, root canal failure, or gum disease, dental implants may be your answer. Dentures and removable partials are not the perfect solution to missing teeth and often bring with them a number of other problems. They also provide only 10 to 15% of the chewing power of your natural teeth, making it more difficult to enjoy many foods in your everyday diet.
Prevent Bone Loss
Dental implants provide the jaw bone with the proper stimulation for healthy bone preservation.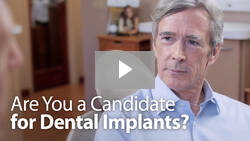 Natural Looking, Feeling & Acting Teeth
Most patients are surprised that they can't tell the difference between the implants and their natural teeth. Another benefit is that dental implants are hygienic, and brushing and flossing is as simple as cleaning your natural teeth.
Long-Lasting
Dental implants are a permanent solution to replace your missing teeth. Dental implants are made of titanium, which is a non-corrosive metal that is harmless to your body. Dental implants do not decay and will never need root canal treatment. However, dental implants still require hygienic home care and professional cleaning.
Related Dental Implant Articles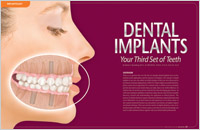 Dental Implants – Your Third Set of Teeth
A discovery fifty years ago paved the way for one of dentistry's most exciting, natural looking and successful tooth replacement systems. Learn how dental implants might just possibly change your life... Read Article
The Hidden Consequences of Losing Teeth
For those missing even one tooth, an unsightly gap is actually the least significant problem. What's of far greater concern is the bone loss that inevitably follows tooth loss. Dental implants fused to the jawbone can preserve bone, improve function and enhance psychological well-being. Learn how implants serve both as anchors to support replacement teeth, and preserve bone as one of the better preventive maintenance procedures in dentistry... Read Article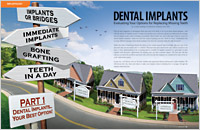 Dental Implants - Evaluating Your Options for Replacing Missing Teeth
As we guide you through the marketing hype you'll see that well planned implants most often require a team approach in assessing whether they're right for you. Not only are they a better treatment choice, they will last longer, possibly a lifetime, making them the right choice and the most cost effective option long term... Read Article
Implant Overdentures for the Lower Jaw
Implant overdentures represent a major change for the dental profession and the public. The lower jaw two-implant overdenture may be considered a more appropriate starting point over regular dentures... Read Article